Our Products
Choose the UPDOIT™ right for you. UPDOIT™ is designed in three beautiful colors that are two toned so that once inserted into the hair, it blends naturally with the hair color.
UPDOIT™ PALE - $6.00 ea.
Order in Pale if you have Light Blonde hair.



UPDOIT™ MEDIUM - $6.00 ea.
Order in Medium if you have Blonde to Light Brown hair, including Reds.



UPDOIT™ DARK - $6.00 ea.
Order in Dark if you have Brunette to Black hair.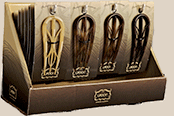 For wholesale orders, please contact us.
UpdoIt Tool Kit is FREE with wholesale orders. Comes complete with product as pictured. No assembly required!